Aquatherm Praha 2014 Gold Medal for our Swimming-Pool Units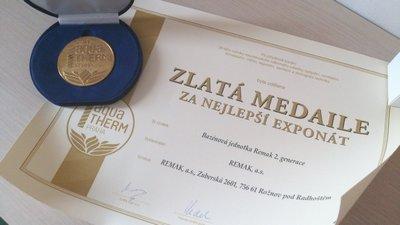 Our exhibition at the Aquatherm Praha 2014 trade fair was extremely successful. We were pleased not only by the interest shown in our products by visitors, but also by the fact that our second-generation swimming-pool units won a gold medal at this professional trade fair for their quality workmanship (surface finish and rigorously designed details with regards to the units' operating characteristics).
For more information on the award ceremony, please read the article "Medals Awarded at Aquatherm Praha 2014" at the TZB-INFO.cz portal, from which these photos have been taken.
This exceptional success was underlined by the fact that aside from the products themselves, our stand also attracted interest and was awarded for its general concept and design.